Spartans Bring Home Runner-Up & Championship Plaques from Creighton Holiday Tournament
The Lady Spartans brought home the Championship from the Creighton Holiday Tournament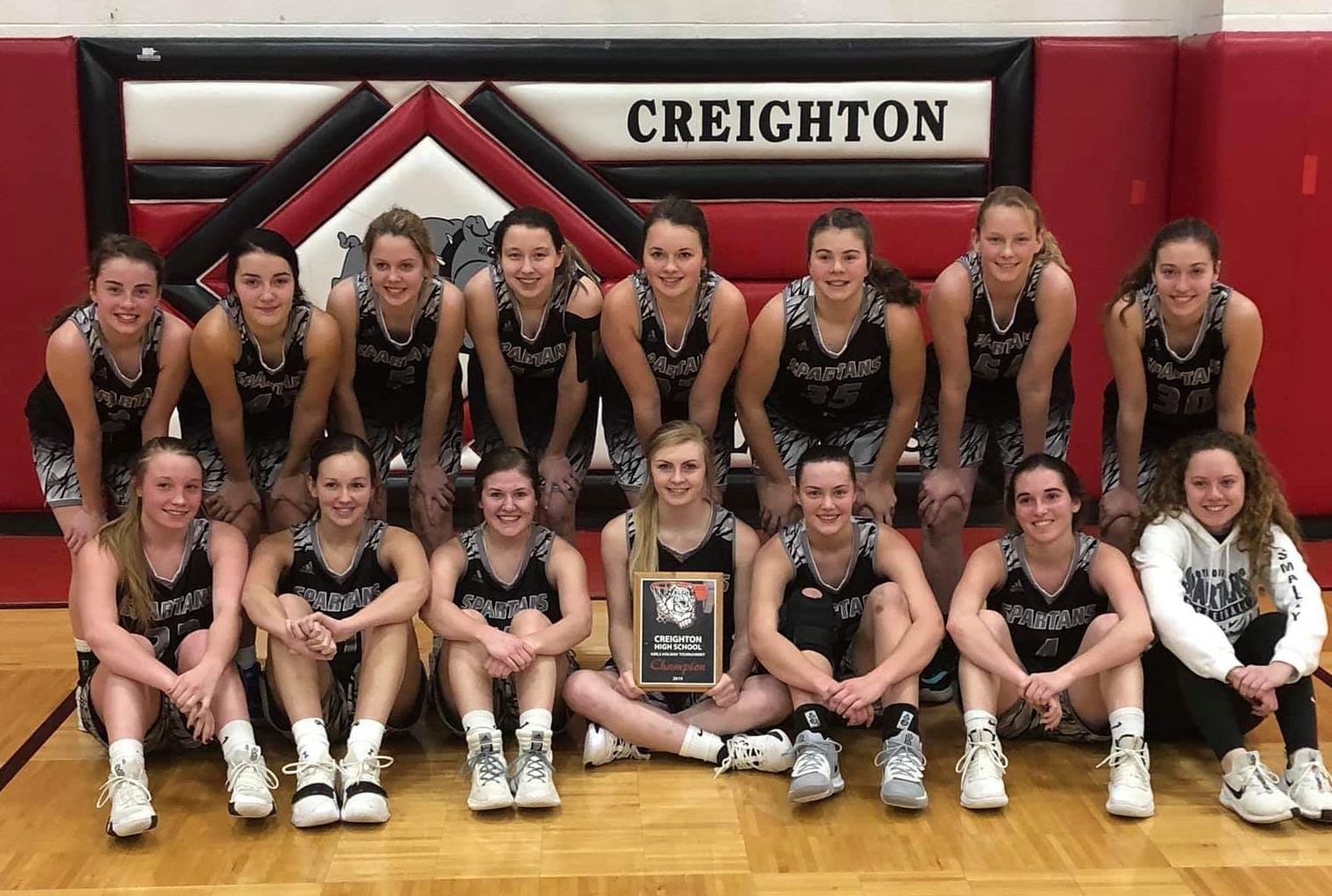 Spartans Claim Runner-Up Plaque at Creighton Holiday
In the first round of the Creighton Holiday Tournament, Boyd County faced off with Wausa for a second time this season. This time, the Spartans knew Wausa would be seeking revenge and making adjustments. While this did slow the Spartans down in the first half, it did not stop them from claiming the win to advance to the championship game. The Spartans only lead by 7 points at halftime but pulled away to win 47-33. Due to the scrappy Viking defense, Boyd County had to adapt and provide a balanced scoring attack in order to win. Jory Zeisler led in scoring with 14 points. Colby Hansen was solid on the boards with a season-high of 15. Joseph Hiatt also gathered 7 rebounds. Hiatt and Koenig were selfless on the offensive end contributing 5 and 4 assists. Additionally, Hiatt and Hansen each hustled for 3 steals, respectively.
Name

J. Zeisler

C. Hansen

J. Hiatt

C. Koenig

Z. Rihanek

T. Atkinson

G. Kirwan

PTS

14

11

6

6

4

3

3
Boyd County 11-12-13-11=47
Wausa 7-9-2-15=33
The championship match was postponed to the 31st due to weather, The Spartans took on the athletic Creighton Bulldog squad. Boyd County once again showed great matchup defense, but they could not hold the Bulldogs quite long enough. The Spartans only trailed by 6 at the half but could not ignite enough offensive production against the solid Bulldog man-to-man defense. Offensively, Boyd County limited turnovers and shot a higher percentage than the team average, but just came up short of holding the Bulldog offense. Colby Hansen had an excellent game scoring 28 points. He also captured 7 rebounds, while Joseph Hiatt and Jory Zeisler secured 6 each. Hiatt also picked up 3 steals and contributed 5 assists.
Name

C. Hansen

J. Zeisler

G. Kirwan

K. Ellwanger

C. Koenig

PTS

23

10

8

2

2
Creighton 17-9-20-14=60
Boyd County 13-7-19-6=45