2021 FBLA State Leadership Conference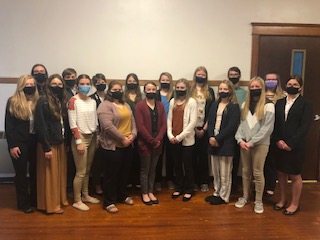 Seventeen Boyd County FBLA members participated in the virtual 2021 State Leadership Conference held on April 14. To kick off the conference, the opening session was held with keynote speaker Kent Julian encouraging members to choose their response when faced with adversity in order to produce a positive outcome. Following the opening session, members took part in live workshop sessions promoting leadership, entrepreneurship and college and career exploration.
After a short lunch break, the delegate assembly took place, in which the chapter voting delegates cast their vote for next year's state officer team. Being chosen to serve as voting delegates were Amelia Hakl, Liz Kersch, McKenzie Snyder, Elizabeth Bernt and Addison Birmeier. Next, members took part in an FBLA social event with live trivia and viewed the installation of the 2021-2022 Nebraska FBLA state officer team. The afternoon session concluded with the Awards of Excellence program being presented on the main stage.
As a chapter, Boyd County FBLA earned 23 placings at the conference, 3rd only to Arlington and Ashland-Greenwood. This is an impressive accomplishment as there are over 150 FBLA chapters in Nebraska. Twelve members from the Boyd County chapter have qualified for the National Leadership Conference, which will be held as a virtual event at the end of June (NQ denotes National Qualifier):
Top Eight
Brynn Almgren, Amelia Hoffman and Lauryn Hoffman - 1st in Community Service Project (NQ)
Trevor Goesch - 1st in Computer Applications (NQ)
Brooklyn Eckert - 1st in Middle Level Business Etiquette (NQ)
Joshua Kersch - 2nd in Economics (NQ)
Elizabeth Bernt - 2nd in Middle Level Elevator Speech
Trevor Goesch - 3rd in Introduction to Information Technology (NQ)
Brynn Almgren - 3rd in Introduction to Public Speaking (NQ)
Paige Drueke, Amelia Hakl and Kiryn Kayl - 3rd in Local Chapter Annual Business Report (NQ)
Trevor Goesch - 3rd in Networking Infrastructures (NQ)
Brooklyn Eckert - 3rd in Middle Level Career Exploration
Amelia Hakl, Liz Kersch and McKenzie Snyder - 4th in Introduction to Business Presentation
Brooklyn Eckert - 4th in Middle Level Digital Citizenship
Addison Birmeier - 4th in Middle Level Elevator Speech
Paige Drueke, Amelia Hoffman and Lanie Lechtenberg - 5th in Introduction to Social Media Strategies
Joshua Kersch - 5th in Political Science
Jenny Goesch - 5th in Web Design
Addison Birmeier - 5th in Middle Level Business Math
Elizabeth Bernt - 5th in Middle Level Digital Citizenship
Jenny Goesch - 6th in Spreadsheet Applications
Trevor Goesch - 7th in Computer Problem Solving
Brooklyn Eckert - 7th in Middle Level Elevator Speech
Amelia Hakl and Lanie Lechtenberg - 8th in Introduction to Event Planning
Addison Birmeier - 8th in Middle Level Business Etiquette
Honorable Mention (Top 4% of competitors in each event)
Elizabeth Bernt - Middle Level Career Exploration
Addison Birmeier - Middle Level Digital Citizenship
Joshua Kersch - Business Communication
Jenny Goesch - Digital Video Production
Halie Faus - Publication Design
Other Awards
Boyd County FBLA - Gold Seal Award (awarded to Top 10% of chapters)
Mike Hoffman (Huffy's Airport Windsocks) - Businessperson of the Year Award
Elizabeth Bernt - Young Leader Award (NQ)
Kiryn Kayl - Who's Who in Nebraska FBLA Award
Paige Drueke, Amelia Hakl, Amelia Hoffman, Lauryn Hoffman and Kiryn Kayl - All Sate Quality Member Award